Welcome to a new era of printing with the ColDesi 24H3R UV/DTF Printer. This state-of-the-art printer is revolutionizing the way you customize anything, even the most challenging surfaces. With exceptional precision and unmatched versatility, the 24H3R is set to redefine the customization printing industry.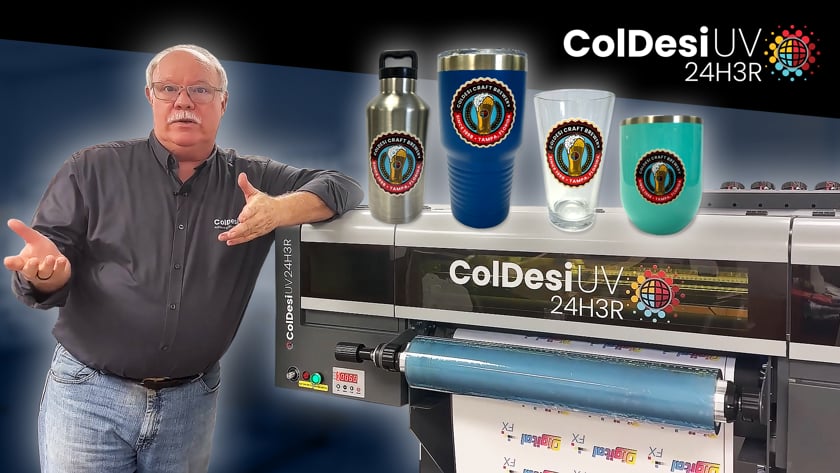 Features of the ColDesi UV 24H3R
Benefits of UV DTF Printing Transfers
How does a UV Direct to Film Printer work?
This print technology creates adhesive transfers that can be applied to all types of surfaces including metal, wood, plastic, glass, ceramic and so much more. The adhesion and durability of these transfers is exceptional, creating a transfer that is detailed and long-lasting.
The 24H3R printer has 3 print heads that prints all of your colors as the film goes through the printer. In other words, it will print CMYK + White + Clear all at the same time. Being able to print full-color in one step is an incredible time saver compared to single-color analog technologies.
Once the ink is printed on the film it is immediately cured with a UV lamp. This eliminates drying time that is often associated with transfer printing.
The final step is automatic lamination, essentially completing the transfer so it can be fed back into a roll. These transfers are now ready to be applied, moved to another part of production or sold as a wholesale transfer.
Technology – How it works
Return – Cost and Profits
Features – What can it do
Applications – Branding with UV
What are the key advantages of UV DTF Prints compared to other methods?
Payments as low as $595/mo*
Training: – Equipment, Software & Maintenance

Support: – Phone Email & Video

Speed: Prints 30 square feet / hr

Dimensions: 63" x 35.5" x 51.25"

Applications: Wood, Metal, Plastic, Ceramic & much more

Warranty: 1 year parts and labor – 6 month print head
*Continental U.S. Only. With approved credit. Sale price cannot be combined with other offers. e.g. 0% financing.
Features

ICC color profile with adjust function

Temperature 77°C~82°F, Humidity 50%-70% 

50HZ/60HZ 220V 10A

Plastic, Glass, Ceramic, Paper, Metal, Wood, Vinyl etc.

1600 X 900 X 1300mm(LXWXH)  - 63" x 35.5" x 51.25"
What are common applications for UV Direct to Film Transfers
The beauty of this system is its unique versatility. It becomes a challenge to express how versatile and unique these transfers are without sharing specific applications. If one of these applications resonates with your business, contact one of our experts.
Call (855) 201-9185, chat or fill out the form below to learn more.
Learning to use a ColDesi UV Printer
The 24H3R is easy to use compared to many other printing technologies. It has lightweight controls with automatic features, making it an operator's dream machine.
When you become part of the ColDesi family you automatically get access to our world-class training and support.
Our online, self-paced training course will walk you through each step of getting your printer ready and each module has been created to help you succeed. Thousands of people a year go through ColDesi's training courses to get up and running with their equipment.
One of the best parts is you will always have access to these courses, which is ideal for your growing business. All your employees can go through our special training program so that everyone on your team is prepared.
Finally, ColDesi Support is what sets our customers apart. Our machine owners are equipped with a support team that is available to help get through machine operation, maintenance and even very unique applications.
Will these transfer work on my application?
Chances are the answer is YES. We have adhered these transfers to glass that has gone into a dishwasher to the bottom of a shoe. The adhesive nature of these transfers combined with UV curing creates a strong print that impresses just about everyone who sees them.
If you want to see for yourself contact our experts to ask questions or even request a sample.
Experience the Unrivaled Benefits of the ColDesi 24H3R UV DTF Printer:
1. Superior Adhesion: Say goodbye to concerns about adhesion with the 24H3R. This advanced UV/DTF printer offers better adhesion than any previous technology, ensuring that your designs remain intact and vibrant on various surfaces.
2. Customization for Uneven Surfaces: The 24H3R opens up a world of possibilities with its ability to print and decorate uneven surfaces. Unlike flatbed UV printers that are limited by the gap between the printhead and the surface, the 24H3R allows for precise printing on irregular shapes and textures.
3. Enhanced Durability: When it comes to durability, the ColDesi 24H3R excels. Compared to vinyl or paper stickers, the adhesive transfers created by this printer are more robust and long-lasting, ensuring that your designs withstand the test of time.
4. Streamlined Process: The 24H3R eliminates the need for multiple steps involved in traditional methods such as print and cut. With this printer, you can simplify your workflow, reducing the time and effort required to produce high-quality adhesive transfers.
5. Elimination of Manual Processes: Analog technologies like screen printing or vinyl cutting require step-after-step work with multiple machines. You can eliminate the concept of registration marks, cleaning booths, large scale hazardous waste disposal and so much more.
6. Unparalleled Product Support: When you choose the ColDesi 24H3R, you gain access to the expertise and knowledge of a company that has been serving the customization industry since 1978. ColDesi has been at the forefront of introducing and supporting new printing technologies, including DTG printing, UV printing, direct-to-film, and white toner printing. With their experience and dedication, their team of technicians and trainers understands the unique needs of printing businesses. You can rely on ColDesi to provide exceptional support and guidance throughout your printing journey.
7. Success-Driven Approach: ColDesi's ultimate goal is to help you succeed. They understand the frustrations that come with adopting new technology and are committed to ensuring a seamless transition and integration of the ColDesi 24H3R into your business operations. With their comprehensive training and ongoing support, you can confidently offer a finished product that sets you apart from the competition.
8. Expanded Product Offering: By incorporating the ColDesi 24H3R into your business, you unlock new revenue streams and expand your product offering. With the ability to print on diverse surfaces and materials, you can cater to a wider range of customers' needs and preferences. 
Working with ColDesi means you are partnering with the best printer experts in the industry. Our team is consistently on the forefront of technology to bring you the best equipment in the business. The best next step is talking to our printing experts to find out how the new ColDesi UV 24H3R can help your business achieve new heights.
See the ColDesi UV 24H3R in action!
Fill out this form for an online demo with a printing pro. Or call 877-793-3278 or chat below!
We believe in privacy and communicating in the best way for your business. By completing the above form, you agree to be contacted by ColDesi Inc through phone calls, emails, and text messages. You can opt-out of emails with unsubscribe links or opt-out of texts by replying STOP at any time.